Follow my blog with Bloglovin
Drunk Elephant — B-Hydra Intensive Hydration Gel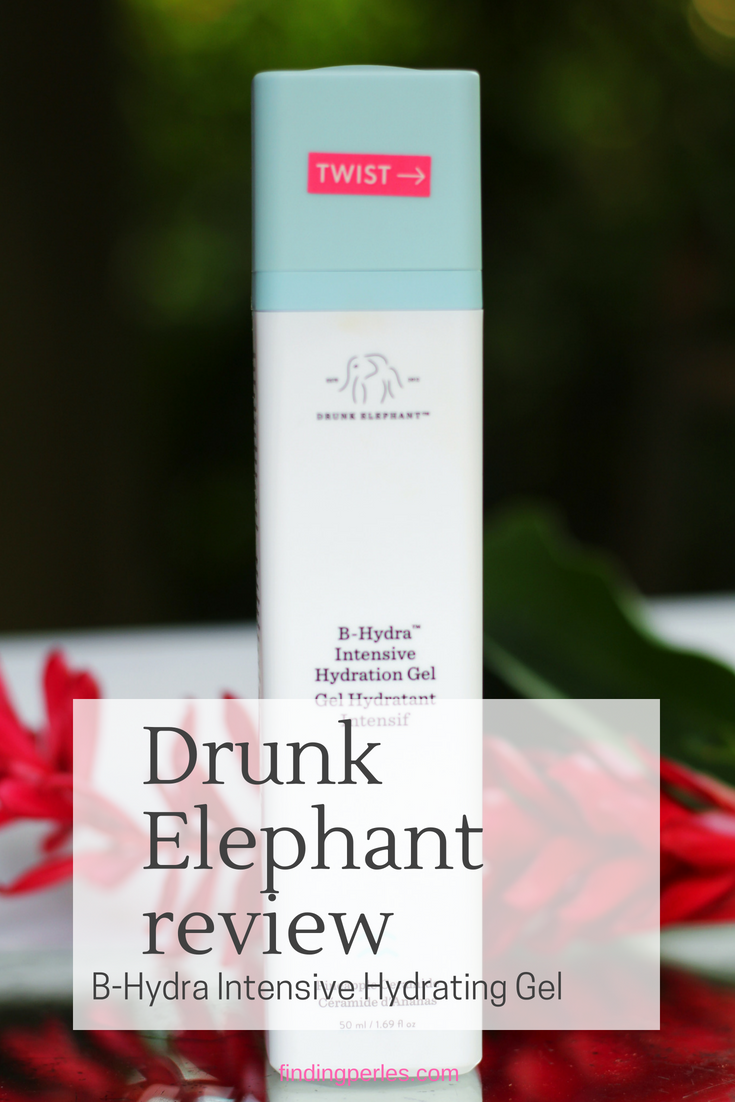 Hi every one, so today's post is going to be a review of the B-Hydra intensive Hydration Gel by Drunk Elephant. And I've been "introduced" to this brand through YouTube (very normal… right?), quite a few of my favorite youtubers had at least one product from Drunk Elephant in their skin care. So I thought, hmmm… maybe I should try one of their products, since I am trying to build a good (effective) skin care routine. But then, after seeing the price, I was like never mind.
Do you ever have the feeling that a brand or company is hunting you? Yes… So I finally decided to try a sample size, but ended up buying a full size by accident (that's the issue of not having a Sephora in your country).
About the brand 
Drunk Elephant is a company that claims to use clean ingredients, without the "susipicious 6".
They also state that their products are appropriate for every skin type. Their products are fragrance free.
Drunk elephant is cruelty free and some of their products are vegan. Drunk Elephant's Products are not natural, but they are Non-toxic (clean).
(Click here to learn more about the brand)
About B-Hydra Hydrating Gel
It is a lightweight hydrating gel, formulated with pro vitamin B5 and pineapple ceramide. Suitable for all skin types, and claims to improve the look of skin texture and tone.
It is said to work best when combined with the Drunk Elephant C-Firma day serum.
You get 50ml/ 1.69 fl oz for $52 (us dollars)
My skin type: combination (oily on the T zone)
Weather/ climate: Hot (I live in the Caribbean)
So, the B-Hydra intensive hydrating Gel has a light gel consistency, and melts into water when you rub it in. It definitely feels like a luxury skin care product.
It's odorless. And leaves a tacky feeling, which is something I really like to have before applying makeup.  It is not greasy, but my skin feels hydrated after using it. I usually apply it after a toner.  I have been using the B-hydra Hydrating Gel for almost six months now, and I can say that I do notice a difference on the texture of my skin.
I have to say that I did get a few nasty pimples on the third week, but I cant really blame the product because I also had been eating a lot of fatty food on that particular week. But what really surprised me was that these pimples didn't leave a scar! like you could barely see where they were.
My pros
Love the packaging
Very light weight, and perfect for hot weather
Does what it claims
Fragrance free
Works well with my routine
My cons
The price
Would I repurchase?
Yes !
Would I recommend?
Not necessarily, I mean if you already have a hydrating gel (or moisturizer) that works for you, just stick with what you have. But if your still looking, go head and try the this one.